imaginement ™ is a systems thinking reset that combines creative thinking with critical thinking skills. It has applications in community collaborative partnerships as well as in education. Cultivating the imagination enhances creative thinking for anticipating needs as well as actualizing creative potentialities. Ask about our assessement tool for college student first-report essays.
Photo: Todd Heisler/The New York Times; Tomas Saraceno Venice Biennale 2009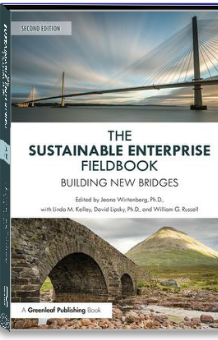 Terri McNichol is a contributor to the Sustainable Enterprise Fieldbook, 2nd printing
Available NOW! https://bit.ly/2vtSkMS
"WOW! This incredible work defines both the breadth and depth of the sustainability movement. The Activities, Cases, and Tools delineate the qualities of a sustainable enterprise with insight, practical value, and passion. It will shape the path to a better world for at least another 10 years. Mega-kudos to the authors for this amazing compendium, the definitive statement of the sustainable enterprise.
- DAVE ULRICH RENSIS LIKERT PROFESSOR, ROSS SCHOOL OF BUSINESS, UNIVERSITY OF MICHIGAN PARTNER, THE RBL GROUP