imaginement ® is a systems thinking reset that combines creative thinking with critical thinking skills. Cultivating the imagination enhances creative thinking for anticipating needs as well as actualizing creative potentialities. This arts-based approach has applications in business and education such as science learning (STEAM) by moving beyond literal seeing in order to perceive patterns that spark ideation and innovation.
Photo: Todd Heisler/The New York Times; Tomas Saraceno Venice Biennale 2009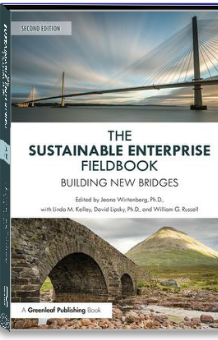 Terri McNichol is a contributor to the Sustainable Enterprise Fieldbook, 2nd printing
Available NOW! https://bit.ly/2vtSkMS
"WOW! This incredible work defines both the breadth and depth of the sustainability movement. The Activities, Cases, and Tools delineate the qualities of a sustainable enterprise with insight, practical value, and passion. It will shape the path to a better world for at least another 10 years. Mega-kudos to the authors for this amazing compendium, the definitive statement of the sustainable enterprise.
- DAVE ULRICH RENSIS LIKERT PROFESSOR, ROSS SCHOOL OF BUSINESS, UNIVERSITY OF MICHIGAN PARTNER, THE RBL GROUP