imaginement ® * is a systems thinking reset for appreciative change and innovation. Cultivating the imagination enhances creative thinking not only for anticipating needs but also actualizing potentialities. For example, attentional looking at art can trigger processes of seeing the world from different angles. Such an arts-based approach can also have applications in business and education such as science learning (STEM), that enhanced by art (STEAM) can move individuals beyond literal seeing to perceiving patterns that spark ideation and innovation.
Ren's imaginement assessment tool evolved from analyses of college art history student first-reports written over three decades on an art object in the museum.
Photo: Todd Heisler/The New York Times; Tomas Saraceno Venice Biennale 2009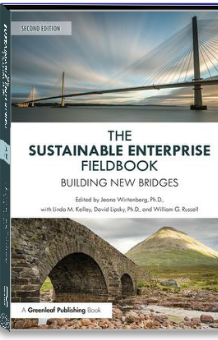 Terri McNichol is a contributor to The Sustainable Enterprise Fieldbook 2nd ed.
"WOW! Mega-kudos to the authors for this amazing compendium, the definitive statement of the sustainable enterprise."
- DAVE ULRICH RENSIS LIKERT PROFESSOR, ROSS SCHOOL OF BUSINESS, UNIVERSITY OF MICHIGAN PARTNER, THE RBL GROUP
Available at https://bit.ly/2vtSkMS
Seminar April 29, 2021: "An awe inspiring presentation on a topic that mixes Chinese art, wisdom and business leadership" ~Prof. Christophe Faugère, Professor of Finance at the Kedge Business School, France
Recently published!
"Visualizing Wisdom: The Mindful Brush of Confucian Moral Aritstry"